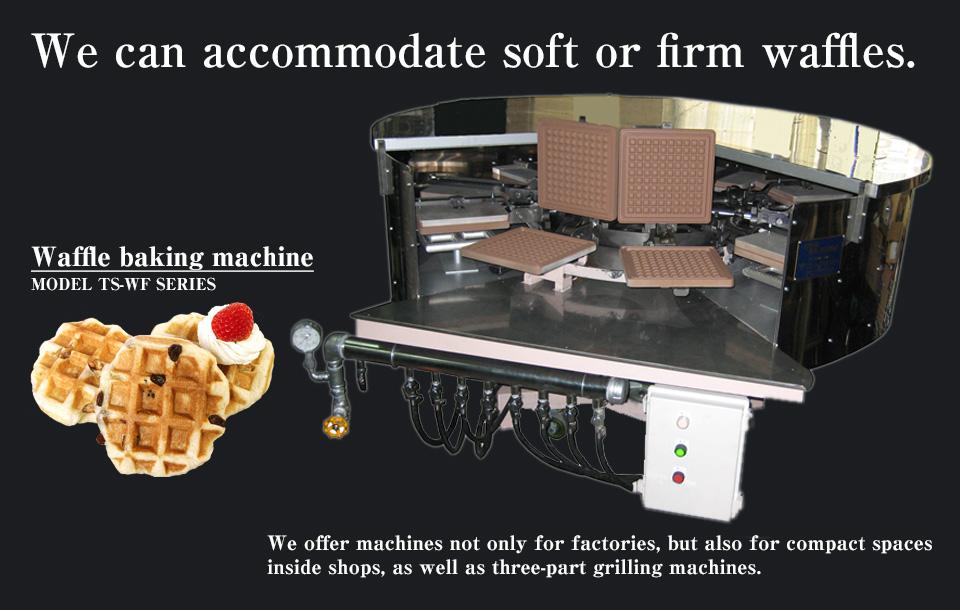 Waffle baking machine [TS-WF-SERIES]

We offer grilling machines matching your specifications, whether those are for softer American waffles, firmer Belgian waffles, or otherwise.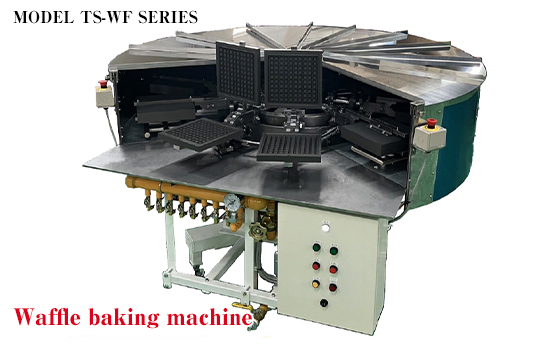 Waffles are another of our specialties.
We also have stylish waffle grilling machines suited to breakfast items, snack items, etc. Our solutions allow integrated production lines handling the processes of dough filling, baking, and wrapping.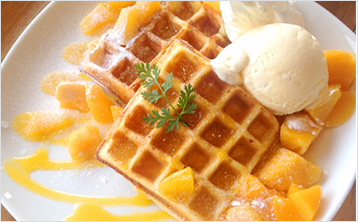 Options include soft types as well as hard types.
Yamada machines can bake soft American waffles or hard Belgian waffles. We can add built-in steps to the processes, such as adding honey, inserting apple bits, or adding other flavors.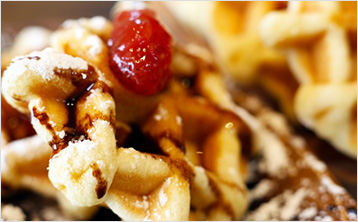 Joint product development is also possible.
Baked sweets have a shelf life, so they are also popular as souvenirs. We can offer help from the recipe creation stage as well.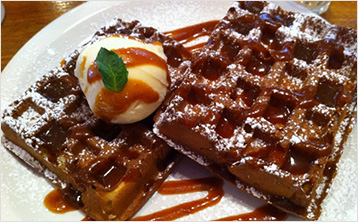 Waffle baking machine [TS-WF-SERIES]
| | |
| --- | --- |
| Machine size | 1,800(L)×l,800(W)×1,300(H) mm |
| Number of molds attached | 8~10molds |
| Mold dimensions | 210×210mm |
| Capacity | Max 200seats |
| Heat | LPG Natural Gas |
| Power supply | 3phase 200V 0.75kw |
3-barreled baking machine [TR-3-E]

Although compact, this single unit incorporates three processes! These machines are perfect for in-store baking visible to spectators.
Three-part grilling machines can bake soft American waffles, hard Belgian waffles, or even hot sandwiches if the right mold is available. During business hours, bake American waffles and hot sandwiches, then after business hours, switch to baking souvenir gift products with a tart mold or Belgian waffle mold. The applications are very diverse.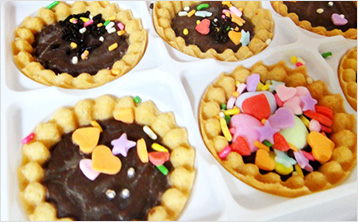 3-barreled baking machine [TR-3-E]
Machine size

※Varies depending on specifications.
Product dimensions
~φ70(9pieces/a mold)
※We will accept other sizes consultation
Drive/power
3phase 200V 5.5kw