Pursuing the essence of hand-grilled flavor
We are confident in our many years of experience and knowledge.
Many users have trusted our products, giving us a long track record in production and sales.
Allow us to introduce Yamada Confectionary Machine Co., Ltd.'s strengths, which let us deliver easy to use and high quality machinery for food production.

90 years of research into confectionery and food product equipment. Pioneering research and dedication to confectionery equipment has brought us to where we are today.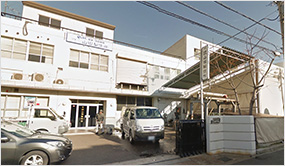 Founded in 1927
Yamada Confectionary Machine Co., Ltd., which got its start making molds for hand-grilled products, has responded to the changing times by adapting our equipment and developing into a company able to provide machinery for mass production.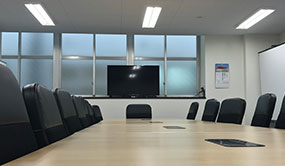 Constantly staying one step ahead of the times.
Our automated takoyaki fritter devices can grill up to 20,000 fritters per hour, allowing us to hold a 95% market share in Japan.
We have also developed machinery for handling molds for senbei crackers and okonomiyaki, as well as Western confectionaries such as waffles and tarts.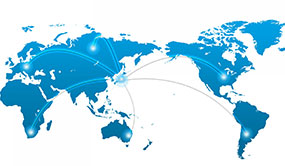 Our fields of business transcend national borders.
In 2010, we greatly expanded and moved our Yao factory.
20% of our net sales come from overseas markets.
Allow us to handle your compliance needs regarding overseas standards.

Yamada Confectionary Machine Co., Ltd. eschews standard products in favor of a sole focus on custom made machinery.
Feel free to submit an inquiry even if you are not sure about the exact details of your needs.
Please do not hesitate to contact us if your situation entails "wanting to manufacture confectionaries but not having the expertise," "wanting to jump right into mass production," or "not knowing who to contact first."
Our staff will accommodate your needs and work with you to build the product you require.

Yamada's strength is 90 years of experience and knowledge.
We also have a laboratory for researching product recipes/compounds, mixing methods, grilling times, etc.
Our researchers and production technicians work together and strive daily to help our customers set the highest price points possible.

No need to worry if you do not have a concrete vision of the machine you want.
Contact us even if your product does not yet have a machine able to produce it.
We will work with you until a standardized approach can be designed.
We will work on the puzzle of "what to do in order to make this process possible" for your product.
Definitely consult with us if your confectionary or food item is at all related to mixing a (powder) ingredient and grilling it on both sides.
We enjoy working on novel projects that help our customers manufacture unique delicacies.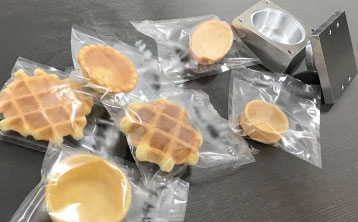 We eschew standard equipment. Our focus is on fully custom made machinery that meets your needs.
Yamada Confectionary's grilling equipment is not your one-size-fits-all approach.For us, our first principle is listening to your needs and creating a custom-made solution.
Since we avoid standardized machinery, we can assemble an apparatus that puts our technology and your creative ideas into a unique result.Our technology actually gets better by handling challenges and overcoming development obstacles.
Previously, casting was the approach used to make molds. Now, however, computers handle the shaping tasks. This new approach is faster and more precise, which allows us to address the rapid replacement cycle of products as we deliver equipment suited to the current emphasis on speed.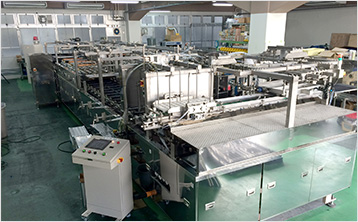 We stay in close contact with prominent ingredient manufacturers so that we can also provide our customers with information on recipes and the like.
This cooperation with important ingredient manufacturers helps us handle both the "hard" aspect of machinery production and the "soft" aspect of recipes, etc. Our equipment is able to consistently and reliably handle the work of making dough and baking crust in order to focus both on productivity and delicious flavor. We pay attention to water, knowing that even one gram can make a difference in the dough, and that is why we have received advice from patissiers. Another of our strengths is having great relationships with ingredient manufacturers.
To date, companies from other industries have entered the confectionary industry with baked products such as cheese cake and waffles. If you have a preferred package, feel free to consult with us on questions such as, "Are there any confectionaries that can fit in this package?" We can also offer ideas for local souvenirs that will help with revitalizing regional economies.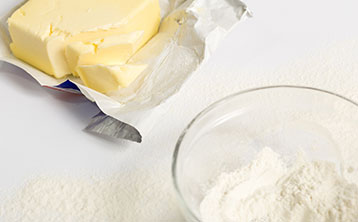 Our fully automated takoyaki fritter devices hold a 95% market share in Japan.
Able to grill up to 20,000 fritters per hour, we have delivered them mainly to domestic frozen food factories. Our 95% market share in Japan comes with our contribution to frozen takoyaki packs on supermarket shelves. We delivered our fully automated first-generation model, which mixes, shapes, and bakes dough, to a major frozen food manufacturer, helping to pioneer a new product market.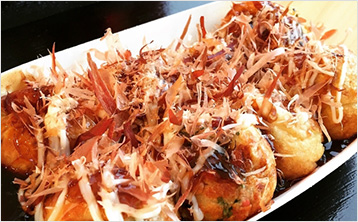 We dedicate maximum effort to reproducibility on site.
Allow us to propose production line ideas that faithfully reproduce your unique flavor profiles, including the skilled touches of bakers and their handmade creations, while also adding automation and minimal loss of ingredients. Our service includes meeting with you and surveying your on-site facilities and designs. By creating a quantitative representation of the craftperson's flavor and techniques, we build a prototype machine allowing stable production.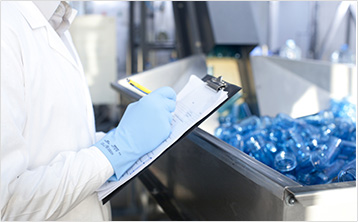 Since we have a long history ourselves, we are able to offer robust after-sales services. Recently, we had the pleasure of overhauling a machine that had seen over 40 years of use. Yamada Confectionary Machine Co., Ltd.'s products do not end when the sale is made. We value the relationship that a sale creates and see that moment as the starting point of our services. There are some Yamada molds from 70 to 80 years ago that are still useful now. This is just some of the evidence of our longevity.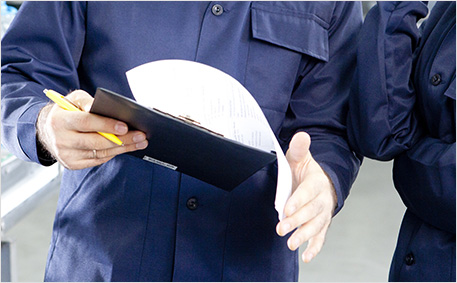 From many years to now, and for many years into the future.
Yamada Confectionary Machine Co., Ltd.'s history spans more than 90 years. We believe that this long track record of diligent effort is a great source of pride. Even when problems have arisen, we have quickly gone to our customers and worked out a solution.
This commitment will not change. Allow Yamada Confectionary Machine Co., Ltd. to handle your legacy equipment maintenance and your new equipment production.