Our current success can be attributed to the clients that choose our products, the staff that build our precision equipment, the companies that partner with us, and the supporters that believe in us. 
Delighting all of the people that are involved with Yamada's business is essential to our company. Our company seeks ways to ensure that everyone, rather than just one person, benefits. It is people who make a company.

A machine made by Yamada Confectionary is a machine made by everyone.  We dedicate effort to forming a consensus within the company. If even one person is pointed in a different direction, the final product will come out different.We also value the external parties, such as our partner companies, that are involved. By first having our partners allied with us, we are able to craft a safe and reliable machine. Together, we generate stable employment and spread Japanese food products to the world.  

We continue to work with smiles all around, while building relationships of mutual prosperity.
Yamada Confectionary Machine Co., Ltd.'s nearly 100 years of history gives credence to our policy of valuing people.


Yamada Confectionary's logo is imbued with the ideas handed down from our founders to today.
The intersecting cross on our logo shows the hand-grilled molds that were our founder's cornerstone products. It expresses the mutual interplay of our technology and ideas with our customers and materials manufacturers, which we hope will yield synergistic effects.

Our founder's name, Nobukuni, takes center stage to remind us not to forget the philosophy from our early days. The Chinese characters convey a Japanese flare, while the color red is symbolic of happiness.

The current Yamada Confectionary CEO is his family's fourth generation heir. After our founding in 1927, we created this logo in order to strive toward becoming a 100-year company.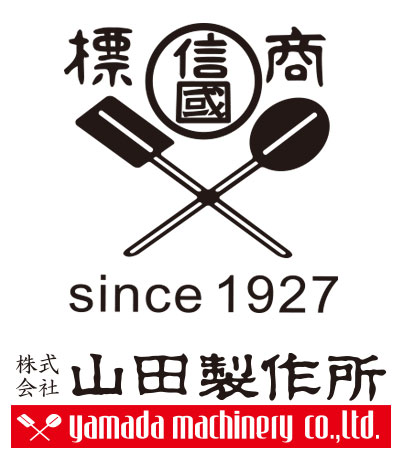 company name
Yamada Confectionary Machine Co., Ltd.'s
location
【head office】
 2-104,Wakabayashi-Cho,Yao-City, Osaka, 581-0038 Japan
【Yao Second factory】
 2-109,Wakabayashi-Cho,Yao-City, Osaka, 581-0038 Japan
tel
+81-72-948-8050
Representative
Futoshi Yamada
Capital
10 million yen
Establishment
1966.August
the purpose
Designing, manufacturing and sales of various confectionery food machines
Main banks
Bank of Tokyo-Mitsubishi UFJ Uemachi Branch
Sumitomo Mitsui Banking Ueda Branch
Osaka City Shinkin Bank Ikuno Branch
Handling model
Automatic Takoyaki baking machine,Automatic Okonomiyaki baking machine,
Automatic Flour cracker baking machine,Automatic Bun-cake baking machine,
Crepe baking machine,Waffle baking machine,Tarut cup baking machine etc
Main sales destination
Domestic famous Japanese confectionary manufacturing industry,
frozen food manufacturing industry etc.,
Food manufacturers in China, South Korea,
Taiwan and other Southeast Asia and large-scale dealers
Affiliate
YWC Co., Ltd.
I would be pleased if you ask us for maintenance request from YWC Co., Ltd. in the future



April 1927
Founder founded in Miyoshima Prefecture
September 1954
Inheritance in Kamikuni business in the second generation at Minami-ku Uehonmachi
August 1966
Moved to Tennoji-ku Karakiyo-cho, established a corporation
September 1973
Headquarters building in Tennoji-ku Jonanji Town built and relocated
September 2006
Kozo Yamada assumed office as president
October 2013
Moved to current location for business expansion, now
June 2015
Futochi Yamada assumed office as director
March 2015
Newly established Yao second factory for business expansion
October 2017
Establishment of new company YMC Co., Ltd. (Maintenance business center)
I would be pleased if you ask us for maintenance request from YWC Co., Ltd. in the future