Automatic Flour cracker baking machine
compact senbei grilling equipment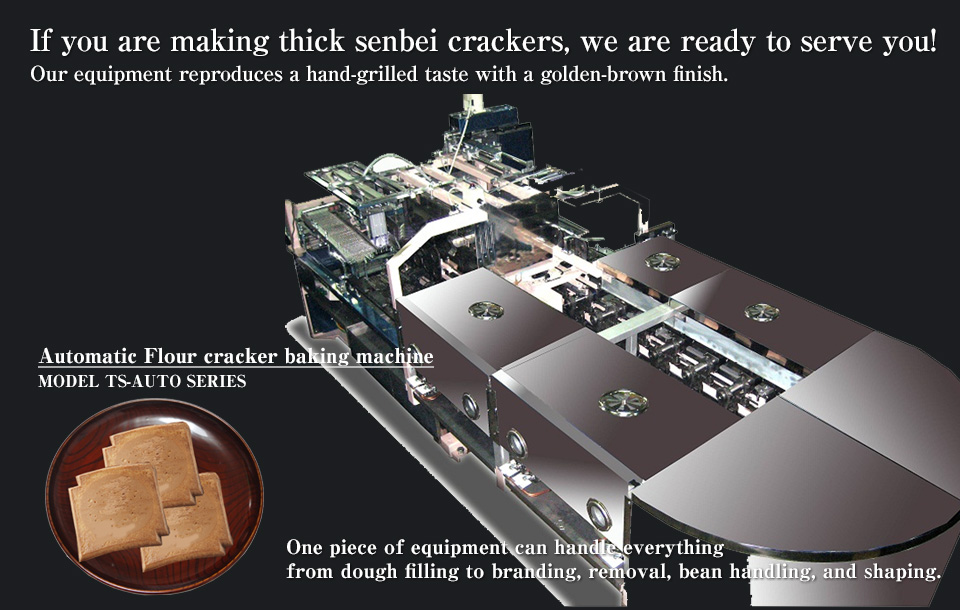 Automatic Flour cracker baking machine [TS-AUTO-SERIES]

Docking with a roller-outfitted filling device that moves the dough forward allows for products like cookies, which have thickness to them.
Optional equipment: bean docking apparatus, branding apparatus, bending apparatus, grabbing apparatus, twisting apparatus, and more.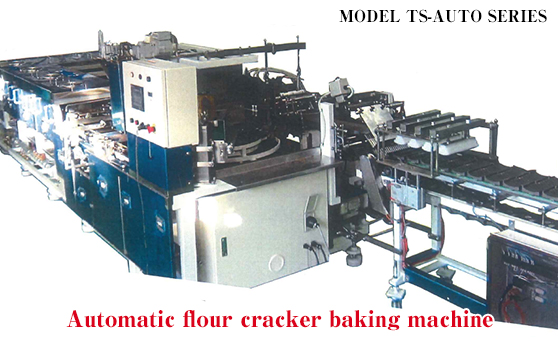 Much more than just "grilling," we can accommodate needs for extra tasks of a complicated nature.
Various steps can be added over and above stretching dough before it is grilled. These extra steps can include branding a mark or name onto the product with a branding apparatus, adding decorations such as beans or flowers, or shaping and pinching the product in half (as with shoga senbei crackers). With optional equipment such a bending apparatus, grabbing apparatus, twisting apparatus, etc., products can be formed into heart shapes, cat shapes, and more. Many types of original products are possible depending on the mechanical arrangement.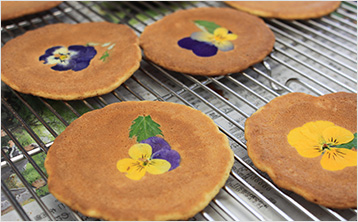 The mold technology that is our founder's legacy is still alive and well.
Baking molds (and baking pans) are essential to producing senbei crackers. Precision molds allow for finished product removal even when the shape is intricate, which means it is easier to process the edges of the removed product. "Thick grilling" is what our senbei cracker grilling equipment excels at, so these devices can handle dough with ingredients such as nuts, etc. Docking with a roller-outfitted filling device that moves the dough forward also allows for baking cookies. We use computers to craft and form the molds. This approach has the advantage of speed and quick delivery, which is something that our customers have been very pleased with.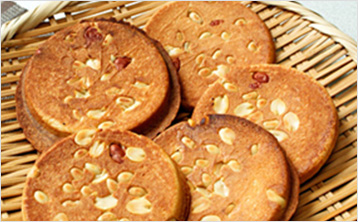 Temperature and timing are the secrets to producing an authentic hand-grilled flavor.
Our senbei cracker machinery uses LPG and city gas for heat. Since a thermometer is also part of the device, you are always able to check the baking levels. The dough for senbei crackers is grilled in between two molds, so no direct heat is applied. If you desire a seared finish, please let us know about that requirement. Baking times and the number of times the product is flipped vary depending on the dough thickness and internal ingredients, all of which we can adjust to your preferences.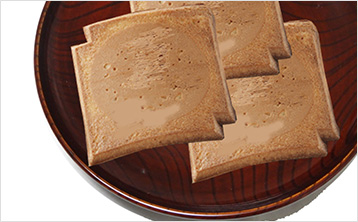 Automatic Flour cracker baking machine [TS-AUTO-SERIES]
Machine size
2,800~4,500(L)×2,000(W)×1,350(H)mm/mm
※Varies depending on specifications.
Number of molds attached
25~50pcs.
Number of molds attached
200×250mm/mm,105×300~350mm/mm
Capacity
1,200~3,000 per hour(4ッ盛時)
Heat
LPG City gas
Drive/power
3-phase 200V 1.0kw(separate compressor required)
Compact senbei grilling machine [TS-8 / TS-10 / TS-12]

Our machines can prepare many different kinds of senbei crackers, include kawara, papiro, tamago, usumono, etc. Adding optional components such as a branding apparatus, bean topping apparatus, automatic raw dough supply pump, etc. can help you reduce your number of laborers. Our grilling machines are perfect for small lot production.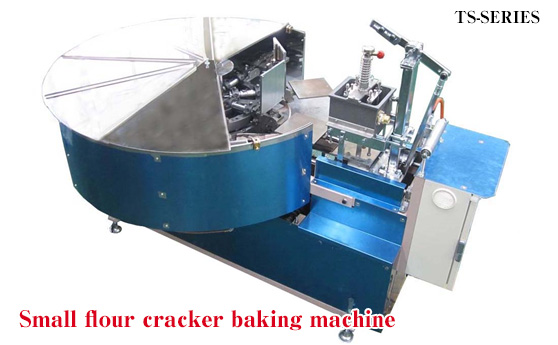 Compact senbei grilling machine [TS-8 / TS-10 / TS-12]
Machine size
1800(L)×1600(W)×1400(H)
※Varies depending on specifications.
Number of molds attached
[TS-8]:8pcs.
[TS-10]:10pcs.
[TS-12]:12pcs.
Mold dimensions
[TS-8]:180~330mm
[TS-10]:180~240mm
[TS-12]:180~210mm
Heat
LPG City gas
Drive/power
[TS-8]:3-phase200V 0.2kw
[TS-10]:3-phase200V 0.4kw
[TS-12]:3-phase200V 0.4kw
※separate compressor required